FLIR T1010 HD Thermal Imaging Camera, 1024x768 Resolution 30Hz & FLIR Tools+
HD Resolution: See more detail and find hidden problems with the 1024 x 768 true HD resolution.
Wide Temperature Range: Accurately assess high-temperature targets up to 650°C (1202°F).
Expert Features: With an agile GUI that responds like a smartphone and live image enhancements such as 1-Touch Level/Span, the T1010 has the expert features you need.
Outstanding Image Clarity: FLIR Vision Processing combines HD resolution, MSX®, and UltraMax® image enhancement with FLIR's proprietary adaptive filtering algorithms to produce brilliant thermal images with up to 3.1 million pixels.
Ergonomic and Easy to Use
Specifications
Specifications
OVERVIEW
Built-in Digital Camera
5 Mpixel with LED light
Color alarm (isotherm)
No
Compass
No
Detector Type
Focal plane array (FPA), uncooled microbolometer
Difference Temperature
Delta temperature between the measurement functions and the reference temperature
Housing material
Magnesium
IR Resolution
1024 × 768; up to 3.1 MP with UltraMax
Languages
Arabic, Czech, Danish, Dutch, English, Finnish, French, German, Greek, Hungarian, Italian, Japanese, Korean, Norwegian, Polish, Portuguese, Russian, simplified Chinese, Swedish, traditional Chinese, Turkish
Laser
Activated by a dedicated button
Laser Alignment
Position is automatically displayed on the infrared image
Laser Classification
Class 2
Laser Type
Semiconductor AlGaInP diode laser, 1 mW, 635 nm (red)
Profile
No
Set-up Commands
Save options, programmable button, reset options, set-up camera, language, time & units, camera information
Spectral Range
7.5–14 µm
Tripod Mounting
UNC ¼"-20
Weight
1.9 kg (4.3 lb)
GPS [compass]
No
Text
No
Time Lapse
No
User Presets
The user can select and combine measurements from one box and one delta
Voice
No
CONNECTIONS & COMMUNICATIONS
Antenna
Internal (disabled)
Audio
No
Interface
USB Micro-B, HDMI
METERLiNK - Bluetooth
No
SD Card
One card slot for removable SD memory cards
Storage Media
Removable media SD or SDHC card. Class 10 or better recommended
USB
USB Micro-B: data transfer to and from a PC, uncompressed colorized video
USB - Standard
USB 2.0 High Speed USB Micro-B connector
METERLiNK
No
Video Connector Type
HDMI type C
WiFi
No
ENVIRONMENTAL
EMC
ETSI EN 301 489-1 (radio) ETSI EN 301 489-17 EN 61000-6-2 (Immunity) EN 61000-6-3 (Emission) FCC 47 CFR Part 15 Class B (Emission) ICES-003
Emissivity Correction
Variable from 0.01 to 1.0 or selected from the materials list
Encapsulation
IP 54 (IEC 60529)
Ergonomics
The 120° rotating optical block allows you to point the camera in multiple directions while maintaining a comfortable position
Humidity (Operating and Storage)
IEC 60068-2-30 / 24 hours, 95% relative humidity, 25–40°C (77–104°F) / 2 cycles
Operating Temperature Range
-15°C to 50°C (5°F to 122°F)
Radio Spectrum
ETSI EN 300 328 FCC Part 15.247 RSS-247 Issue 2
Safety
EN/UL/CSA/PSE 60950-1
Shock
25 g (IEC 60068-2-29)
Storage Temperature Range
–40 to 70°C (–40 to 158°F)
Vibration
2 g (IEC 60068-2-6)
IMAGING & OPTICAL
Auto orientation
Automatic landscape or portrait
Automatic Image Adjustment
Standard or histogram based on the image content
Camera size excl lens (L x W x H)
167.2 mm × 204.5 mm × 180.4 mm (6.6 in. × 8.0 in. × 7.1 in.)
Camera software update
Use PC software FLIR Tools
Color palettes
Iron, Rainbow, Rainbow HC, White hot, Black hot, Arctic, Lava
Detector Pitch
17 µm
Digital Camera
Field of view adapts to the infrared lens
Digital image enhancement
Adaptive digital noise reduction
Digital Zoom
1–8× continuous
Display Type
Capacitive touchscreen
Focus
One shot or manual
Gallery
Review thumbnail/full image on the camera Edit measurements/palettes/image modes on the camera
Image Description
No
Image Frequency
30 Hz
Image Modes
Thermal, thermal MSX, digital camera
Infrared Image
Full color infrared image
Lens Identification
Automatic
Manual Image Adjustment
Linear based, possible to adjust level/span/max./min.
Minimum IR focus distance
1.3 m (4.26 ft)
Minimum IR–visual alignment distance
1.3 m (4.26 ft)
MSX Resolution
1024 × 768 pixels
Multi Spectral Dynamic Imaging (MSX)
Thermal image with enhanced detail presentation
Non-radiometric IR video recording
H.264 to the memory card
Non-radiometric IR video streaming
H.264 video using USB
Picture-in-Picture
No
Viewfinder
No
Visual Video Recording
H.264 to the memory card
4.3" Display
800 × 480 pixels
Sketch
No
UltraMax
Yes
Video Lamp
Built-in LED light
Visual Image
Full color visual image
Visual Video Streaming
H.264 video using USB
MEASUREMENT & ANALYSIS
Area
1 box with max./min./average
External Optics & Windows Correction
Automatic, based on the inputs of the window transmission and temperature
Measurement Corrections
Emissivity, reflected temperature, relative humidity, atmospheric temperature, object distance, external infrared window compensation
Measurement Function Alarm
No
Measurement Presets
No measurements, Center spot, Hot spot, Cold spot, User preset 1, User preset 2
Object Temperature Range
-40°C to 650°C (-40°F to 1202°F)
Optics Transmission Correction
Automatic, based on signals from internal sensors
Reference Temperature
Yes
Reflected apparent temperature correction
Automatic, based on the input of the reflected temperature
Spot Meter
1
Thermal Sensitivity/NETD
<25 mK @ 30°C (86°F)
Object temperature range Accuracy
±2°C (±3.6°F) or ±2% of reading at 25°C for temperatures from -40°C up to 1200°C
METER DATA
Display
Built-in touchscreen, 4.3 in. wide screen LCD, 800 × 480 pixels
POWER
Battery operating time
>2.5 hours at 25°C (68°F) and typical use
Battery type
Rechargeable Li ion battery
Charging system
In camera (AC adapter or 12 V from a vehicle) or two-bay charger
Charging Time
2.5 hours to 90% capacity, charging status indicated by LEDs
External Power Operation
AC adapter 90–260 V AC, 50/60 Hz or 12 V from a vehicle (cable with a standard plug, optional)
Power Management
Automatic power-off functionality, user configurable between 5 minutes, 20 minutes, and no automatic shutdown
SHIPPING INFORMATION
Box Contents
Infrared camera with lens battery (2 each), battery charger, HDMI-HDMI cable, hard transport case, lens cap, neck strap, power supply including multi-plugs, USB cable (Standard A to Micro-B), calibration certificate, FLIR Tools+ license card, user documentation on CD-ROM, printed documentation, SD card
STORAGE MEDIA
File Formats
Standard JPEG, measurement data included No CSQ, measurement data included No CSQ storage on camera
File Formats - Visual
Standard JPEG, automatically associated with the corresponding thermal image
Image Storage
Standard JPEG, including digital image and measurement data, on a memory card
Image Storage Mode
Simultaneous storage of thermal and digital images in the same JPEG file Option to store a digital photo as a separate JPEG file
Details
Details
The FLIR T1010 is your entry to the world of outstanding thermal imaging performance. With up to 3.1 MP resolution (UltraMax®), superior thermal sensitivity, and FLIR's most advanced user interface, the T1010 is designed to streamline your workday, and make you the hero.
Built for the Experts, by the Experts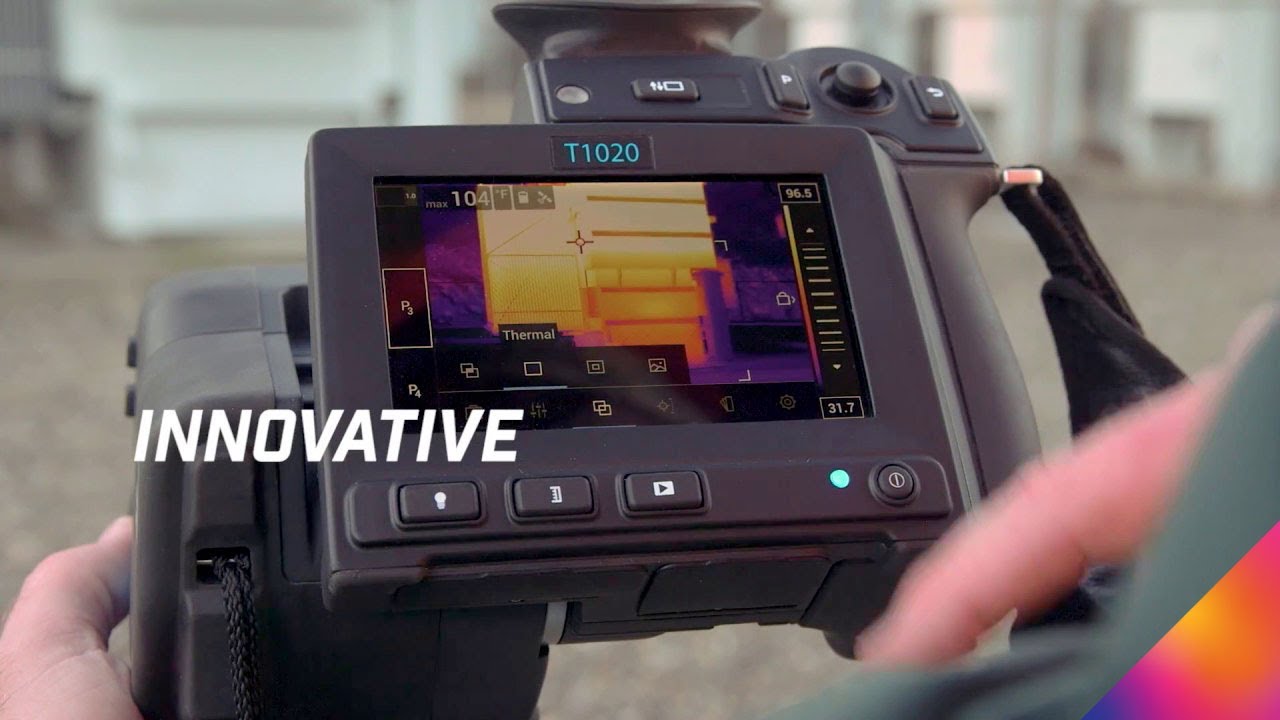 HD RESOLUTION, WIDE TEMPERATURE RANGE

The T1010 records 1024 × 768 true HD resolution images, with thermal measurements up to 650°C (1202°F).

EXPERT FEATURES

With programmable buttons, an agile GUI, and live image enhancements such as 1-Touch Level/Span, the T1010 has the expert features you need.

COMPACT AND EASY TO USE

The T1010 has a robust yet compact frame with a 120° rotating optical block that puts any target within comfortable viewing range.
Additional
Additional
| | |
| --- | --- |
| Model Name | T1010 |
| Net Weight | 1.9 kg (4.3 lb) |
| Dimension | 167.2 mm × 204.5 mm × 180.4 mm (6.6 in. × 8.0 in. × 7.1 in.) |
| Style | Handheld |
| IP Rating | IP54 |
| Detector resolution | 1024 x 768 |
| Display Resolution | 800 x 480 |
| Display Size | 4.3 inch |
| Display screen | TouchScreen |
| Temperature max | 650 °C |
| Temperature min | -40 °C |
| Thermal sensitivity | 25 mK |
| Frame rate | 30 Hz |
Reviews
Refunds
About Payment, Shipping, Returns & Refunds
Payment Methods
Currently, we accept below the payment methods, such as Master card, VISA card, Paypal etc... And we also accept payment offline, that is Bank wire transfer and western union.
Shipping
Lead time:
Calculating when your order will arrive is easy! You can calculate delivery estimates by taking the processing time for your order and adding the transit time based on the shipping method you've chosen. Let's say you order a product. Usually, it would take us for 2-3 days to inspect the goods and package them before shipping. Then we transfer the parcel to our forwarder, it then take 4-7 days to ship the parcel to destination countries. So the total lead time is around 6-10 days for express delivery.
However, if you choose the fixed shipping method, it would take around 20 days for you to receive the order. So if you need the device urgent, please choose express delivery methods.
Shipping Methods:
EnvMeter Shopping Mall has partners with major international shipping companies like DHL, UPS, FedEx, and EMS to offer three shipping methods:
* Expedited Shipping: 3-5 business days
* Standard Shipping: 6-8 business days
* Super Saver Shipping: 10-20 business days
You can choose your preferred shipping method on the Order Information page during the checkout process.
Note:
1.) Due to longer customs clearance times, Standard Shipping times have been extended to 15-30 days for Brazil and 10-15 days for all other destinations in Latin America.
2.) Chinese holiday reminder: During week-long Chinese holidays, Chinese National Day (October 1) and Chinese New Year, services from certain suppliers.
Returns and Cancellation
Online purchases require flexibility and support, We understands that and wishes to create a satisfying and enjoyable shopping experience for you.
Our policies were created to accommodate customer's needs and address the specific nature of our merchandise.
If you can't find the answer to your questions about our Return and Cancellation Policies on this page, please feel free to visit our Contact Us page for customer service assistance.
Cancellation Policy(Cooling-off rule)
Many orders can be cancelled at no charge up before shipment. The order canncellation (excluding pre-orders) can be done in 2 days after payment finished. Users could cancel the order through our system or contact us via Email. If order is cancelled in 2 days, customers will get the full refund in 1 days after we get the notification from customer.
When your order ships, you'll receive an email entitled "Shipment Notification for order#XXXXXXX with EnvMeter.com." Orders that have already shipped cannot be cancelled and will be treated as returns.
Return Policy
All returned items must be in brand-new condition, unused and with original tags and packaging.
If you aren't satisfied with your purchase, you may be eligible for a return or exchange depending on your situation and the type of item you purchased. We reserve the right to charge a handling fee on all items returned for non-quality issues.
For products that are faulty or has quality problem, You may return your item by contacting Customer Service and requesting a return within 7 days of receiving your order.
If we shipped you an incorrect item: You have the option of 1) exchanging it for the correct item, or 2) returning it for a full refund. Customers must confirm their eligibility for an exchange or return with Customer Service before sending items back. In many cases, you have 7 days after receiving your order to contact Customer Service and request a return or exchange. Make sure to read our policies for more details (when applicable) and exceptions.
If your package is lost during shipping: Contact Customer Service to inform us you didn't receive your package. Once we confirm with the courier that your package is lost, we will resend your items or offer a refund.
If we shipped you a defective or damaged item: You are eligible for a full refund or exchange. When requesting your refund, please be ready to provide Customer Service photographs clearly showing the problem with the item and its courier number as soon as possible. If you believe your item was damaged during shipping, Customer Service will need photographs showing the damaged packaging to process your exchanging or refund.
Guarantee
Our commitment to customers' satisifaction
High Quality With Global Standards
Every product undergoes an extensive testing and quality control procedure, ensuring each and every item purchased meets global quality standards. We offers only the highest quality products, allowing customers to shop with confidence.

12 Months Warranty
All our prodcuts will enjoy full warranty of 12 months. And devices happen to be faulty or have problems, we will provider satisified after sales service to you.

Out of Warranty Service
Some customers wonder if the device is out of warranty time, what should i do when there is some problems. Don't worry, we would provider repair service with resonable charge to balance our cost.
Images
Images
Manuals